The Other Campaign in Spanish Harlem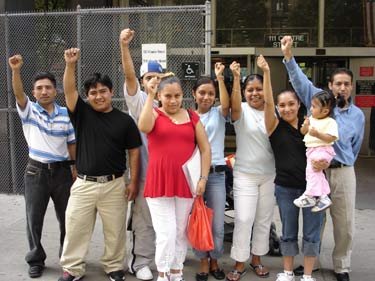 This article was written by the man who publishes the blog "
Zapagringo
." Could that name be any cooler? The Fire Witch gives her wholehearted support to the Other Campaign on the Other Side. I so wanna be a Zapagringa!
"Walking, We Ask Questions"
The Other Campaign in Spanish Harlem
...
La Consulta del Barrio

On July 23rd, residents of El Barrio trickled in to the sparse basement of St. Cecilia's for the first public meeting of the Consulta. They received bottled water, a photocopied El Diario NY article about MJB, and copies of the Zapatistas' Sixth Declaration to read while waiting for the forum to begin. Young children were invited to draw and play. With half of the room's 60 folding chairs filled, the organizers decided it was time to get things started.

Rotating between male and female members, MJB introduced its organization and the reasons for the Consulta. One member summed up the importance of the Consulta with humility, "We are but one organization. How can we make decisions for El Barrio? We've learned that we can fight together and that the people themselves can fight without having to be under one leader." They capped off the introduction by explaining a bit about who the Zapatistas are and why they, MJB, are adherents to the Zapatistas' Sixth Declaration. Before moving into a larger conversation about problems in El Barrio, they showed their video, "Message for the Zapatistas."

Featuring snippets from interviews with over a dozen of MJB's members, "Message…" is a powerful expression of their perspective, politics, and direction as Mexican immigrants fighting for justice "on the other side." Moving through different themes and capturing equally men's and women's voices, the video captures their views on why they left Mexico, what they think of Mexico's political parties, their struggles in NYC with housing, work, immigration, and the Mexican consulate, their commitment to the equal rights of women and queer folks, and their reasons for joining the Other Campaign. The video is a scathing indictment of the Mexican political system, neoliberal globalization, and oppression in the US. Describing the Other Campaign as "the magic touch to find another way," an MJB member explained that it inspired them "to fight in NYC and to claim justice now" while building towards a greater goal: "to free Mexico and return."
...